Everything is American-Made!
1957–1965 Spiders
The reproduction spiders that I sell are simply the best available. I'm very proud of them. Because of their high quality, I believe their performance is more reliable than you can expect from a new old stock Rochester spider.
It took over four years of design and testing to perfect the '63 – '65 spiders. My late husband, Gail was able to find a manufacturer willing to produce the delicate hub springs to precise specifications, which was no easy task. No expense was spared in making these springs because they are the key to having good sensitivity in the idle fuel (mixture) screw as well as a consistent return to idle.
All spiders come with new nuts, ferrules, and hard copper tubing. The '63 – '65 designs also come with both feed lines. Hard copper tubing is very important to prevent the inside diameter from collapsing if the nozzle nuts are over-tightened.
1957 Spiders for 4360 and 4520 Series FI Units
(Centered Octopus Hub) – $350.00

1957–1959 Spiders for 4800, 4960, and 7300 Series FI Units
(Offset Octopus Hub) – $350.00
1958–1962 Spiders for All Series FI Units
(Soldered Hub) – $250.00
NOTE: This spider will also function properly in 1957 FI units.

1963–1964 Spiders for 7375 Series FI Units
(Comes with Both Feed Lines) – $375.00
1964–1965 Spiders for 7380 Series FI Units
(Comes with Both Feed Lines) – $375.00

Spider Feed Lines For 1963-1965 Spiders

1958–1965 Nozzles – $250 per set
The reproduction nozzle sets that I sell have all been matched by flow testing at three different pressures. They are available in all the stock orifice sizes used by Rochester. No other reproduction nozzle sets available today have been pretested to ensure they are properly matched.
The nozzles are fully assembled and sold in sets of eight with your choice of size needed.
Short tops (4360 and 4520 units)
Long tops (4800 and later units)
Long bottoms (4360, 4520, 4800, 4900 and 4960 units)
Short bottoms (all '59 – '65 units)

1958–1965 Nail/Thumbtack Spill Valves – $125 each
The reproduction spill valves that I sell are precision machined to closer tolerances than those used by Rochester. They are also made of higher quality steel to resist corrosion. I believe they are the best nail/thumbtack spill valves being reproduced today.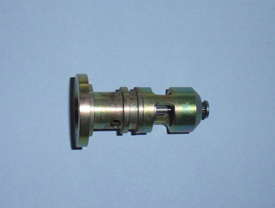 1957 4360 Spider Feed Line Junction Blocks – $50 each
The early 4360 FI units were unreliable for several reasons. The major reason was their dual spider design. Rochester chose to install two spiders rather than using one spider with a central hub to feed all eight nozzles. Low pressure flow rates could differ between the two spiders causing a rough engine idle.
The spider feed line junction block combines the two 1/16" feed lines coming from the fuel meter into one 1/8" tubing outlet. This copper "Y" manifold can be installed to incorporate a single anti-siphon solenoid as shown below. This solution helps solve the rough engine idle in the early 4360 units.

Manometer Connector End – $35 each
Many Kent-Moore manometer kits are missing some of the small parts necessary for installation and use. The part most often missing is the nozzle/hose adapter fitting. I offer reproductions of this fitting that are guaranteed to fit without leaking.